(ABC) — A community is reeling a day after an alleged gunman targeted the local Capital Gazette newspaper in Maryland and gunned down five unsuspecting employees.
The suspect, Jarrod Ramos, allegedly walked into the newspaper office at 888 Bestgate Road in Annapolis with a shotgun and fatally shot four journalists and a sales assistant.
Keith Cyphers, who works in an office across the hall from the Capital Gazette, told "Good Morning America" he heard an "incredibly loud noise … I could feel it in my chest."
Cyphers peered out from his desk and saw the Capital Gazette's door "shattered."
"There was a man who was holding a shotgun," he said. "He had it braced against his chest and he was moving through the lobby of the Capital Gazette office, pointing the shotgun deeper into the office."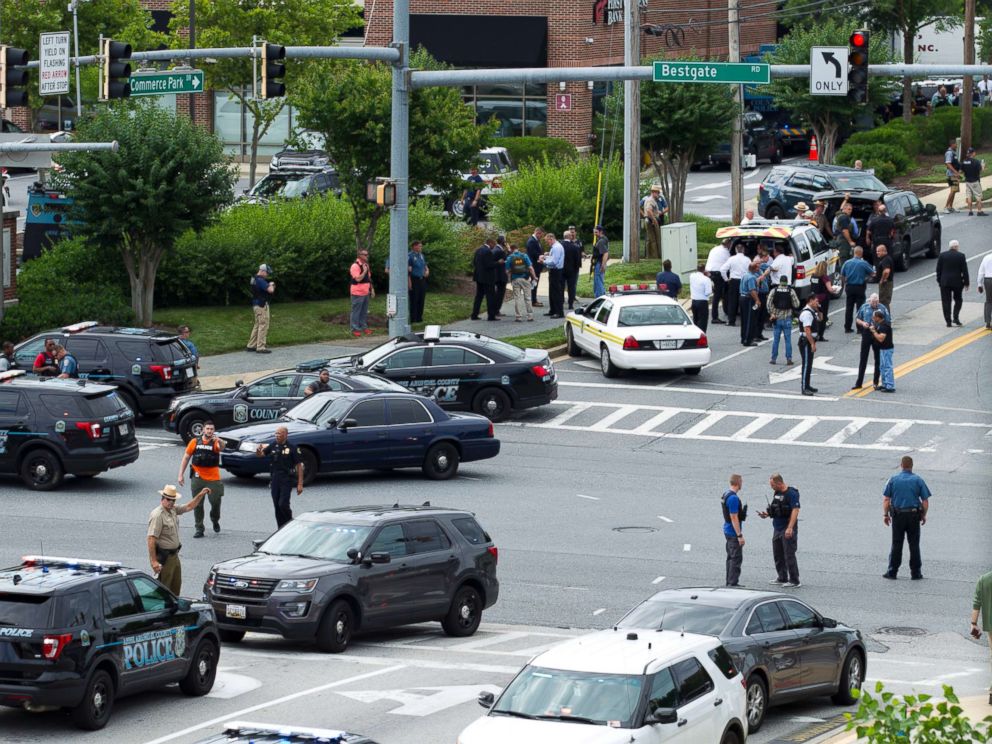 Jose Luis Magana/AP
Maryland police officers block the intersection at the building entrance, after multiple people were shot at a newspaper in Annapolis, Md., June 28, 2018.more +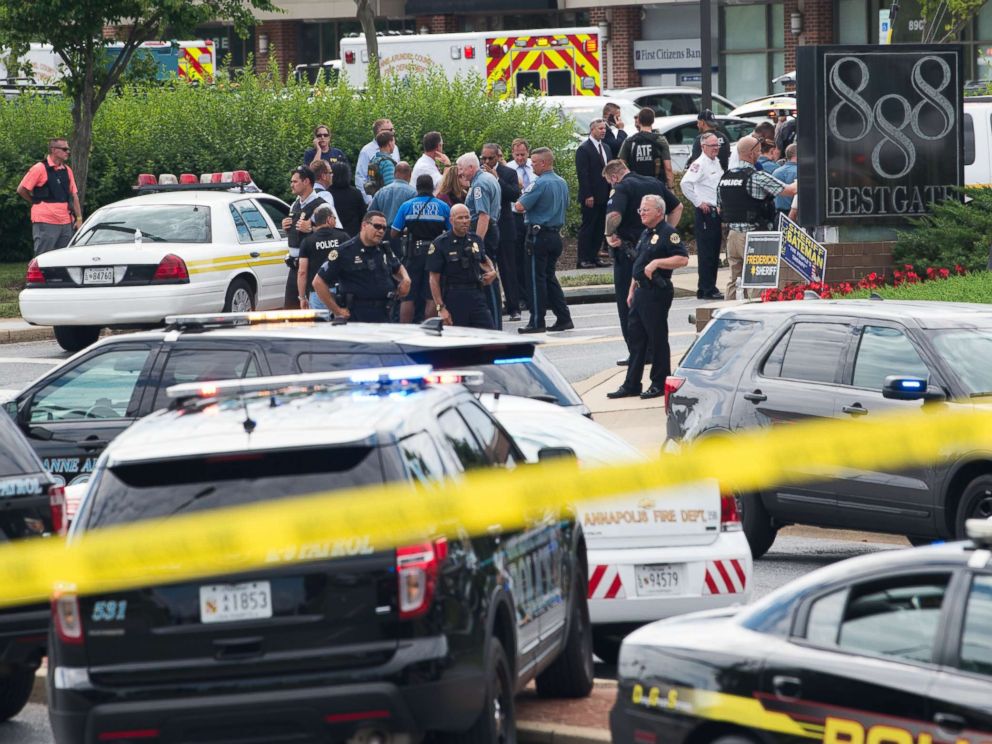 Saul Loeb/AFP/Getty Images
Police respond to a shooting at the offices of the Capital Gazette, a daily newspaper, in Annapolis, Md., June 28, 2018.
Cyphers said he heard yelling and then more gunshots.
Phil Davis, a crime and courts reporter with the Capital Gazette, tweeted, "There is nothing more terrifying than hearing multiple people get shot while you're under your desk and then hear the gunman reload."
"I thought we were going to die," Anthony Messenger, an intern at the Gazette, told ABC News.
The alleged shooter tried to hide under a desk until police quickly responded and took him into custody, according to court documents.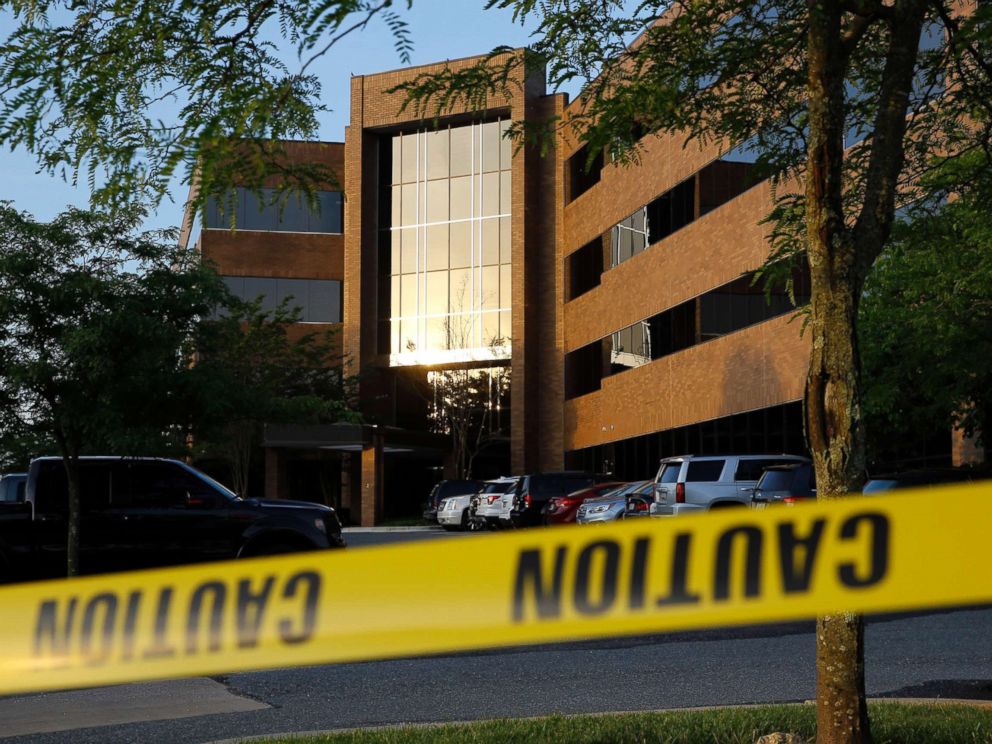 Patrick Semansky/AP
Crime scene tape surrounds a building housing The Capital Gazette newspaper's offices, June 29, 2018, in Annapolis, Md.
The victims
The five victims who died in the Thursday afternoon shooting were employees of the Capital Gazette, authorities said.
Wendi Winters, 65, was a writer who worked for special publications.
Robert Hiaasen, 59, was the assistant editor for news and a columnist at the paper.
Gerald Fischman, 61, was an editorial page editor and regularly wrote opinion pieces for the paper.
John McNamara, 56, was a staff writer.
Rebecca Smith, 34, the youngest victim, worked as a sales assistant for the paper.
Two people who were injured in the shooting, neither by gunfire, were released from the hospital overnight.
Maryland Gov. Larry Hogan said he is "praying for the victims, those who were injured, and their families, friends, and loved ones in this time of tragedy."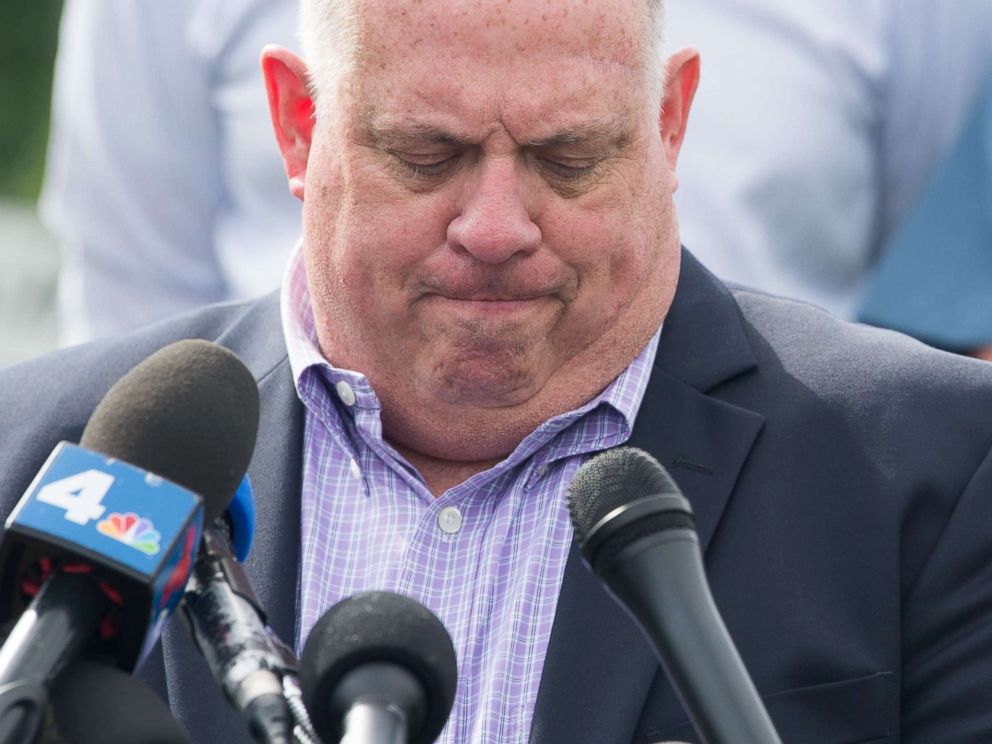 Saul Loeb/AFP/Getty Images
Maryland Governor Larry Hogan speaks during a press conference following a shooting in Annapolis, Md., June 28, 2018.
"The Capital Gazette is my hometown paper, and I have the greatest respect for the fine journalists, and all the men and women, who work there," Hogan said in a statement. "They serve each day to shine light on the world around us so that we might see with more clarity and greater understanding."
Hogan has ordered Maryland flags to be lowered to half-staff.
'We are putting out a damn paper'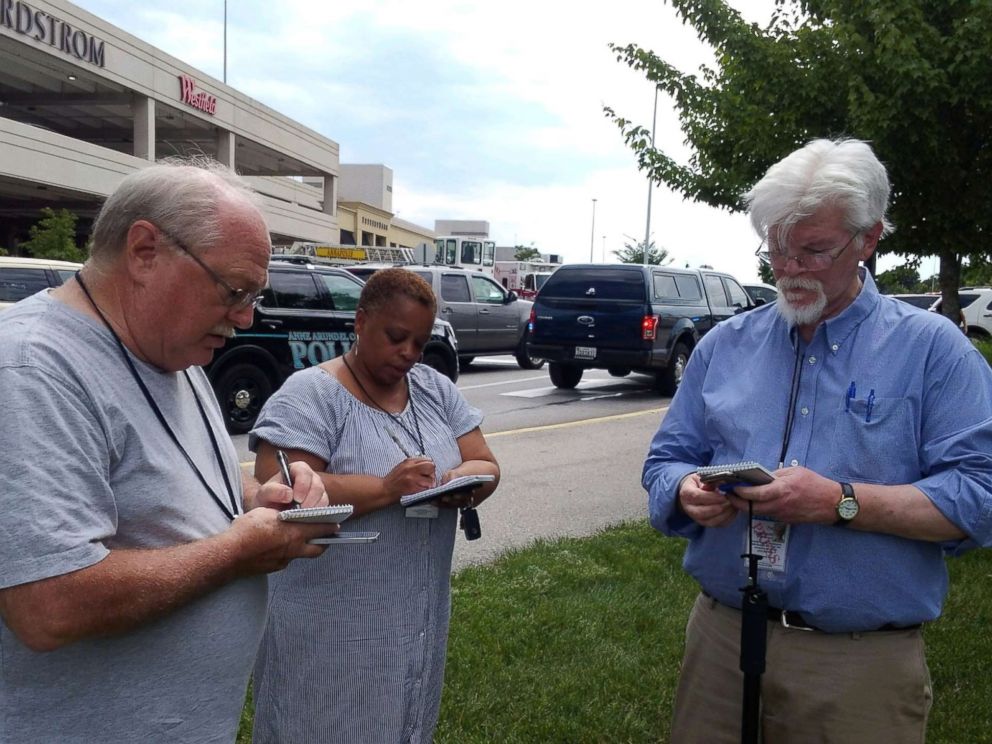 Greg Savoy/Reuters
Capital Gazette journalist E.B. "Pat" Furgurson III takes notes with two other people as police officers respond to a shooting inside Capital Gazette offices in Annapolis, Md., June 28, 2018.more +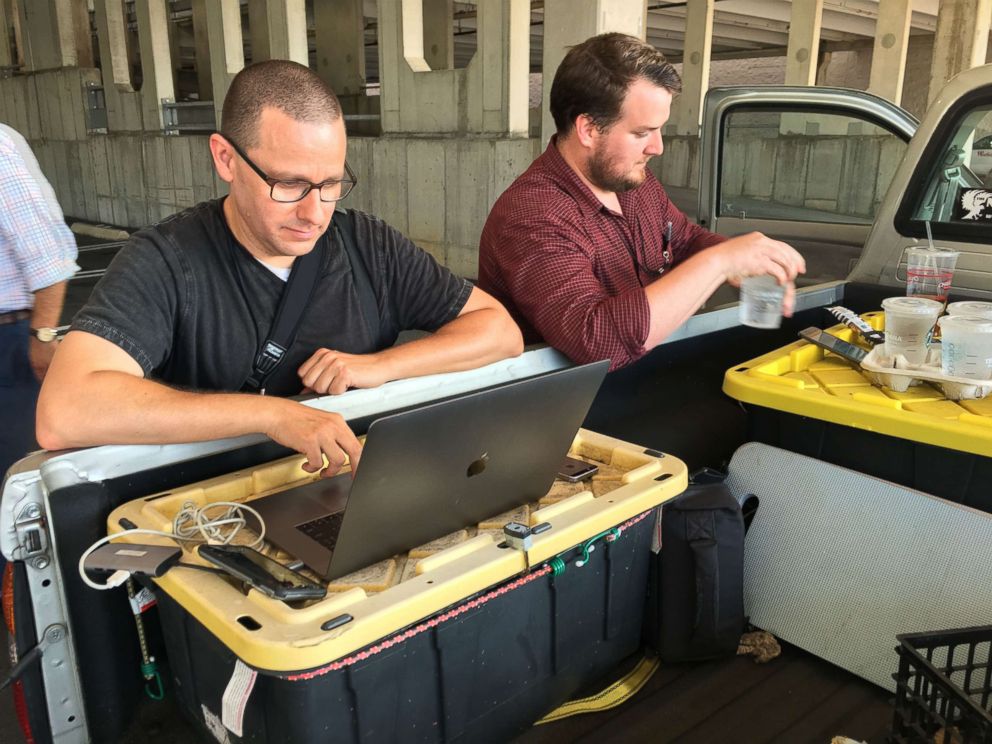 Ivan Couronne/AFP/Getty Images
Capital Gazette reporter Chase Cook and photographer Joshua McKerrow work on the next day's newspaper while awaiting news from their colleagues in Annapolis, Maryland, June 28, 2018.more +
Reporters and editors at the Capital Gazette vowed in the wake of the attack they would publish a paper even after the death of their five colleagues. Through their grief, they worked alongside reporters from the Baltimore Sun, which owns the newspaper.
"There will be a Capital Friday," tweeted Capital Gazette photojournalist Joshua McKerrow.
"We are putting out a damn paper," reporter Chase Cook added.
The paper arrived on doorsteps and at convenience stores as promised with a headline reading, "5 shot dead at The Capital."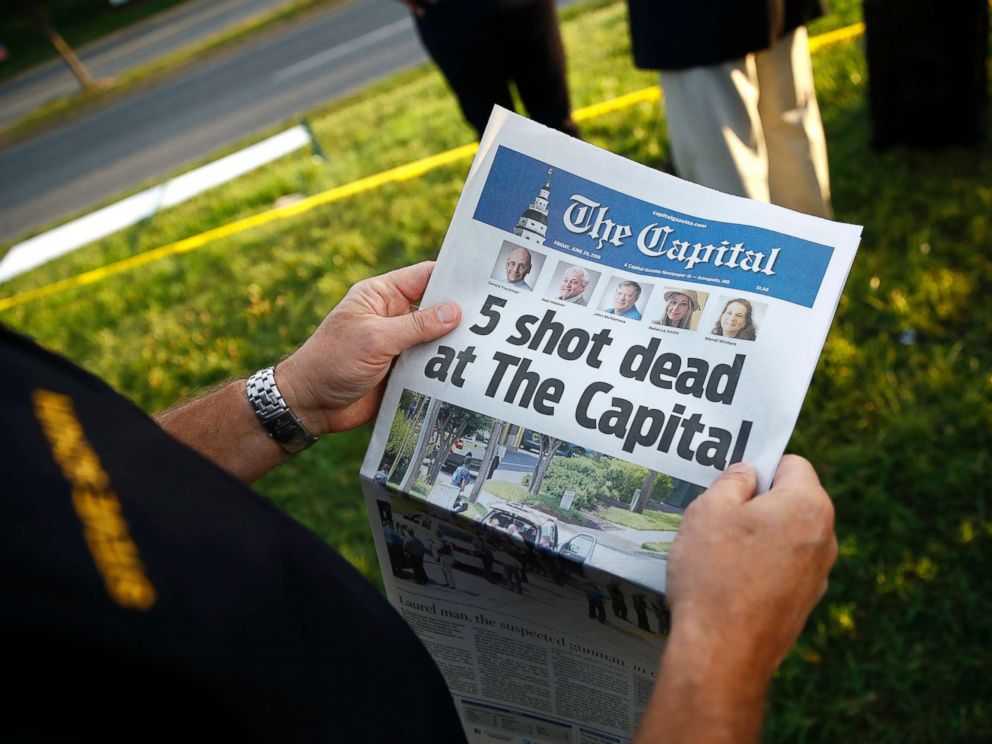 Patrick Semansky/AP
Steve Schuh, county executive of Anne Arundel County, holds a copy of The Capital Gazette near the scene of a shooting at the newspaper's office, June 29, 2018, in Annapolis, Md.more +
The suspected gunman and his history with the paper
Ramos is charged with five counts of first-degree murder and has a bail hearing set for Friday morning, court records show.
The native of Laurel, Maryland, about 30 minutes inland from Annapolis, apparently had a longstanding grudge against the local newspaper.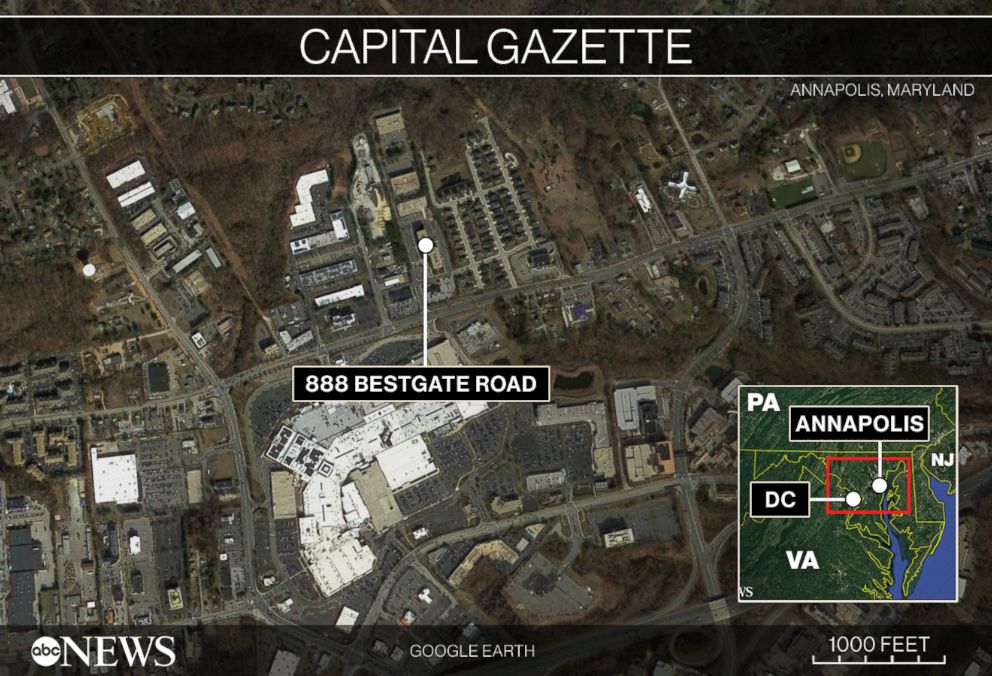 ABC News
Map locating Annapolis, Maryland and the building where a shooting occurred on June 28, 2018.
Tom Marquardt, the former editor and publisher of the Capital Gazette, told ABC News that he first "crossed paths" with Ramos in 2012 when the newspaper wrote a story about the now alleged suspect in connection with a stalking case.
"Our court reporter had written about a case he had in which he was a defendant in a stalking case and he was, Jarrod was, quite upset with the story and he really created a webpage that allowed him to vent and express his frustration and his anger towards me, the reporter and the newspaper," Marquardt said. "Shortly after that, he filed a defamation lawsuit against us."
The lawsuit was the beginning of an ongoing campaign of hatred directed toward the Capital Gazette, Marquardt said.
"He represented himself and took advantage of the legal system to keep the case alive for a long period of time during which he sued lawyers, judges, anybody who crossed his path and disagreed with him," he said.
"During that time he continued to rant on his Facebook page to a point that we were feeling threatened physically from what he was saying. So during that time, we had consulted with our own lawyers in the best steps that we could take, as well as the police, and we had actually contacted the police to pursue one particular comment in which he wished I would be dead and the police looked into it."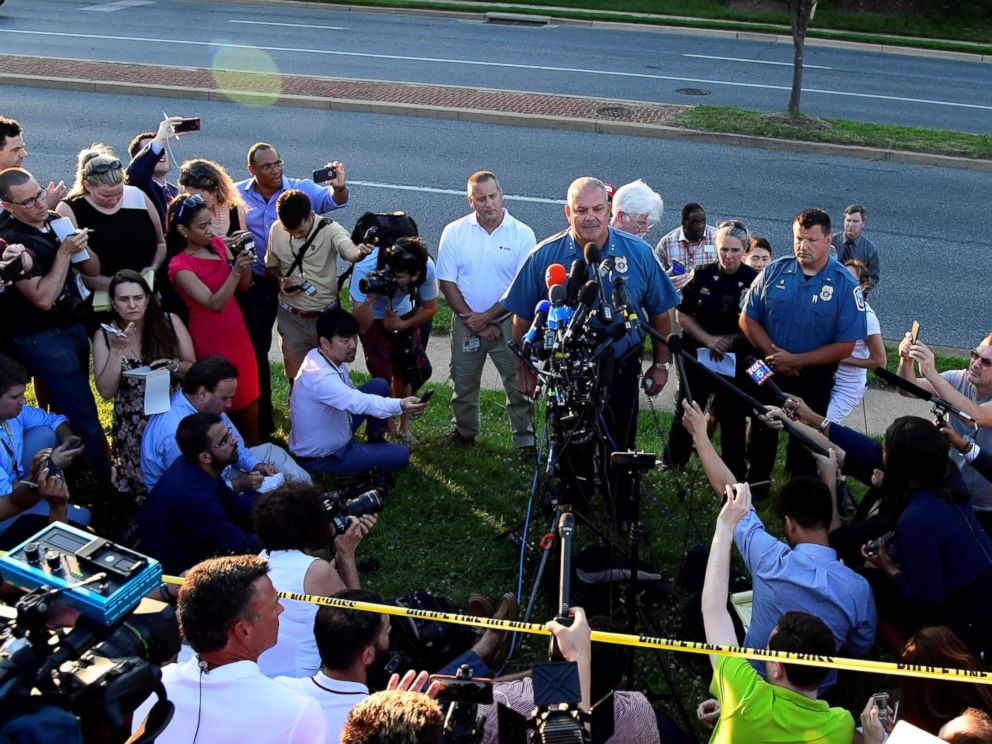 Xinhua/Yang Chenglin via Newscom
A police officer speaks to the media near the scene of a mass shooting in Annapolis, Maryland, June 28, 2018.
Ramos' legal action against the newspaper was unsuccessful, Marquardt said, and the suspect exhausted all of his appeals by 2014.
Marquardt said he could only comment on threats made against himself, but knew Ramos had wished him dead in the past on social media.
"We contacted police … and they went out to talk to him," he said. "They reviewed all the tweets so far and again came away with the feeling that there really wasn't enough substance there to pursue a case in court.
Police would not confirm any specific threats made by Ramos on social media, but said they were aware of them.